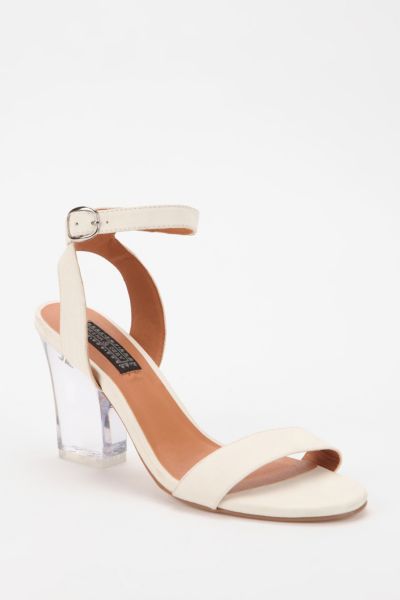 I've got some more vegan shoe tip offs for you today.
First…
Yay! Someone has made a vegan knock-off of those Jeffrey Campbell shoes. You can get the unintentionally vegan version at Urban Outfitters. I have been hoping for a shoe like this for a long time.
I think I prefer white over the black.
I am a fan of Lucite. It is kind of taboo, since it makes you think of strippers, but at the same time it makes you think of Cinderella, and for me, pole dancing, which is my passionate hobby.
The logo of my blog is actually a pair of lucite shoes with a big rose clipped on it. Romantic much?
While I am on the subject of cool vegan shoes, I also like this shoe I found at urban outfitters.
It also reminds me of a Jeffrey Cambell knockoff. This shoe reminds me of the kind of shoes that Black Milk encourages girls to wear with their black milk outfits. I am a huge fan of the company black milk for their marketing and generally the way they run their company. They never push anyone to buy anything but somehow they have developed a frenzy around their products. I like how they are a company that is so transparent and homegrown, always trying to befriend their customers, and how they do so many innovative things, their way. Check them out on Facebook for a fascinating business case study. Observing them on facebook brightens my day.
So yeah. Good to have vegan shoes for your black milk addiction. Even though I mostly observe from afar.
Finally speaking of harnesses, I recently hit the jackpot when I found these vegan harnesses.
The following may or may not convince you why I think harnesses are cool:
I could go on. If you think this is a cool look, check out Zana Bayne's vegan section of her online shop. (she does make leather harnesses as well). Also check out the video–very NSFW but totally awesome.